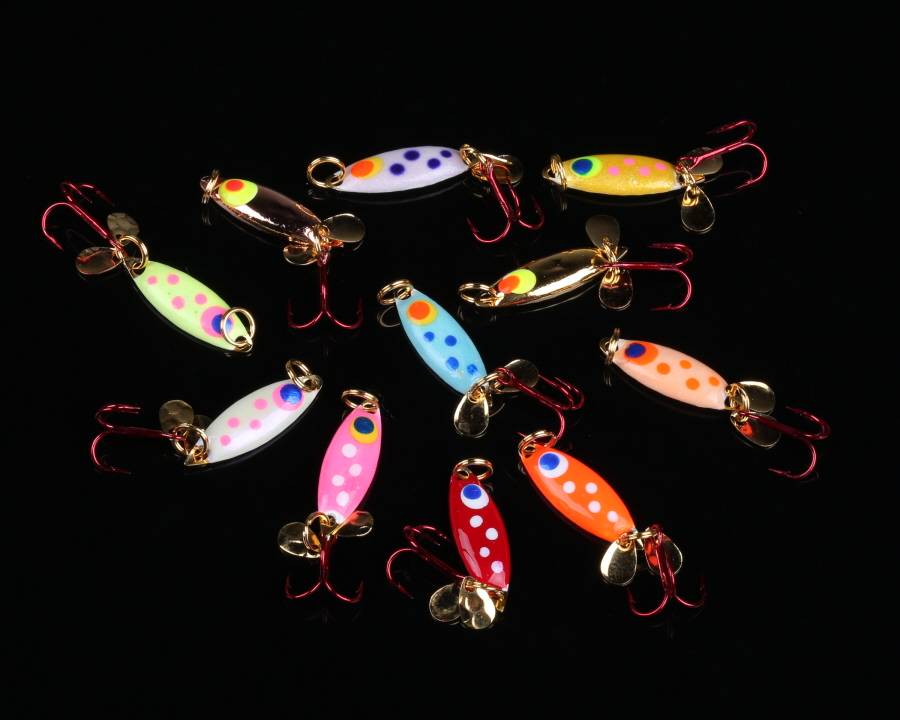 WILLOW DADDY (Purchase Here)
Here is a Jigging Spoon with "attitude"! Willows are all hand soldered and hand painted with hot fish catching colors.
With the two flipper blades near the hook, this jig becomes double trouble on all game fish. The lures have plated backs including gold, silver and copper; with some sporting one of 5 glow colors. There are 12 color patterns with #8, #10 hook sizes.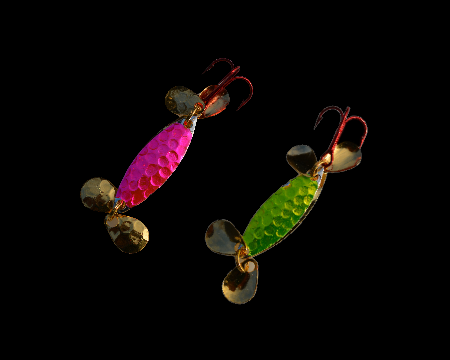 BIG SHAKER (Purchase Here)
Here is a jigging spoon with real attitude. The Big Shaker spoon is a large profile lure with a double blade body with 4 flipper blades.
This lure can be jigged or cast with the body and small flippers creating a dinner bell sound for big game fish like perch and walleyes. There are three colors patterns: Gold plated, gold plated/florescent chartreuse and gold plated/ florescent pink. There are 3 color patterns, with either size 10 or size 8 hooks.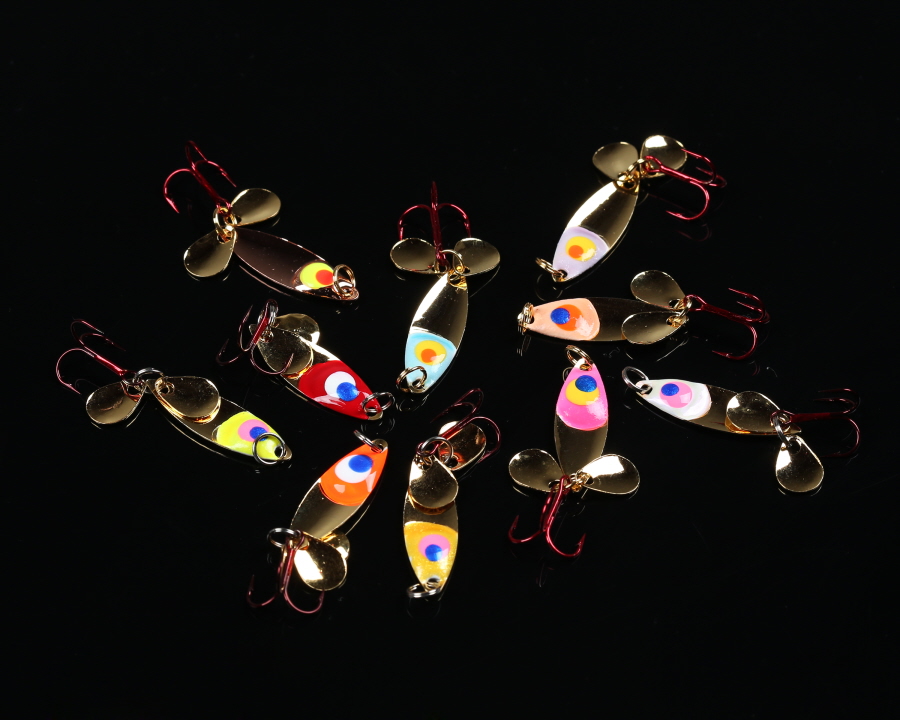 MINNOW FLASH (Purchase Here)
The new Minnow Flash has all the weight contained within 1/3 of the lure. Gold adorns both sides and features a hammered back with double flipper blades and red treble hooks in sizes #8 and #12. Available in 12 colors in both sizes. Available spring 2015.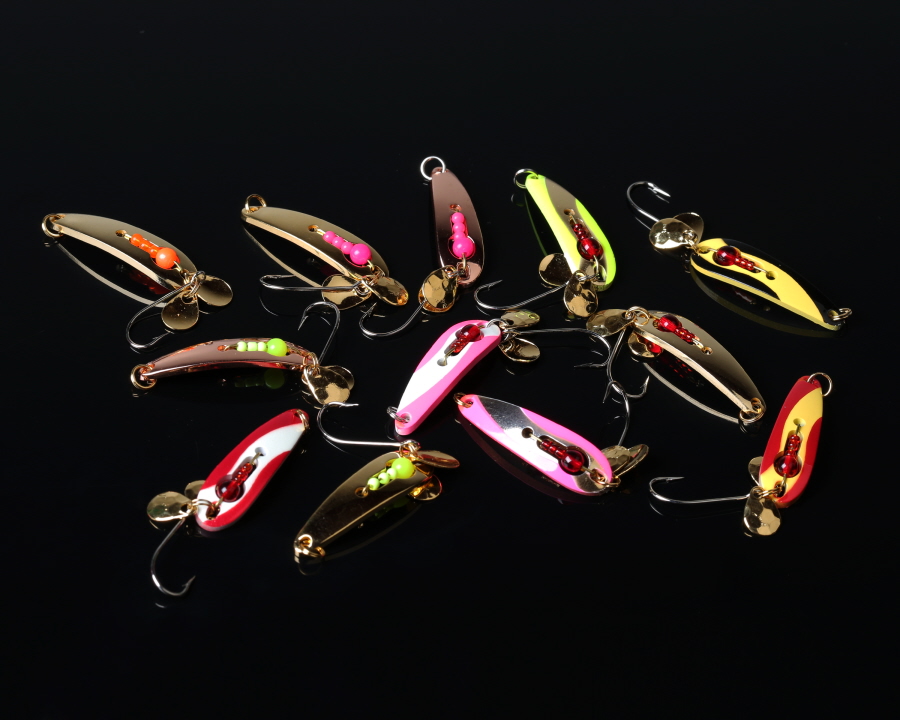 ROCKET SPOON (Purchase Here)
Our best selling lure since 2011, the Rocket Spoon has a large profile and light weight design for a fluttering action that cannot be replicated by our competitors.
The Rocket Spoon was designed with two flipper blades for hard and soft water conditions making its performance equally impressive while casting as it does jigging. The double plated blade gives an extra flash as the beads on the lure give it a subtle rattle or soft glow.
This lure will be a hit with any jig spoon enthusiast. There are 12 color patterns in either 1/8 oz or 1/4 oz.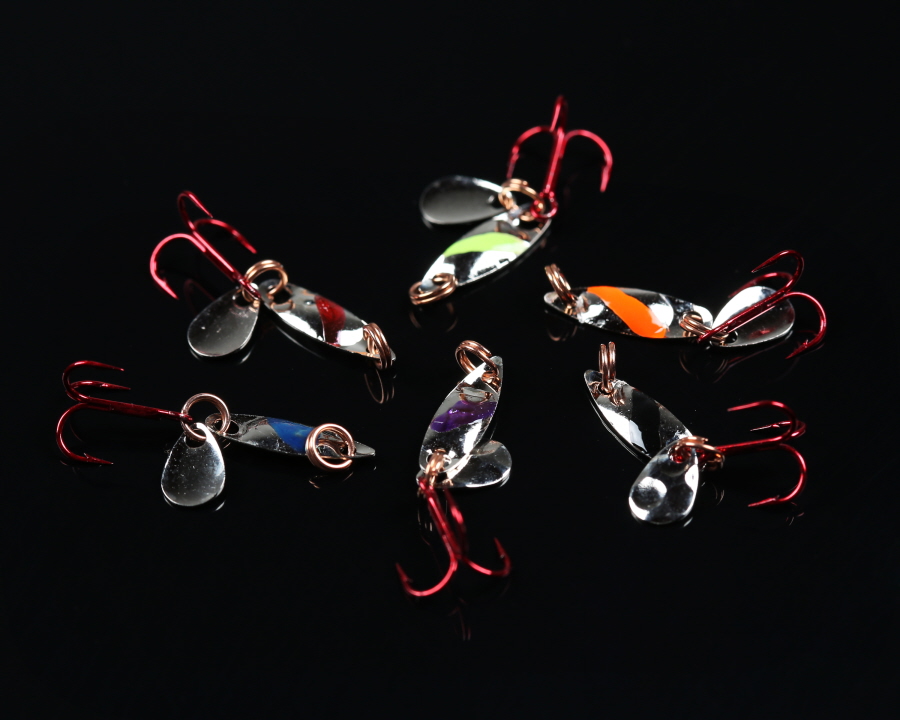 LIL' RASCAL FLASH (Purchase Here)
Here is a jigging spoon sized for panfish, but this lure makes a great slip bobber bait for bigger fish. The Lil' Rascals are plated in either silver or gold with a painted stripe for color. The red #14 treble hook and plated flippers adds to the lures fish attracting ability. There are 6 color patterns and all are made with a special fine wire #14 or #12 red treble hooks.