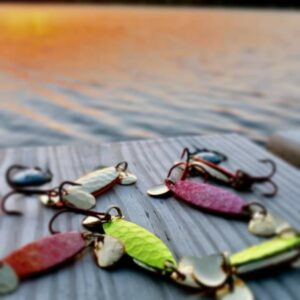 Are you looking for special tackle to catch your next trophy Walleye or Northern Pike? Maybe it's some lures that will catch monster Crappie or Perch. Whether it's just a new lure that you can call your "go-to" lure for Bluegill and Sunfish, or some of the newest fish catching designs for Big Walleyes and Pike, we have the unique tackle that can make that happen.
Welcome to Snyder Lures. We are a company based out of Dodge Center Minnesota. That being said, we been producing some of the most innovative and best fish catching tackle in the United States for over 30 years. Our tackle designs are creations of tackle designer and inventor Gary Snyder.
The Midwest is home to monster Walleyes, Big Northern Pike and Musky, and some of the best pan fishing in the United States. Here at Snyder Lures, we make and sell unique custom tackle to fit your fish catching needs. These products are thoroughly field tested to make sure each lure will produce under the toughest conditions.
Snyder's products include lures for catching trophy Walleyes like, Willow Daddy, Rocket Spoon, Flying Ant, Flutter Shaker, Big Shaker, Stripper  and the Pole Dancer. For Monster pan fish like Perch, Bluegill and Crappies you can use our lures like the Lil' Rascal Flash, Flying Ant, Minnesota Tick-it, Crappie Spinner or Bluegill Spinner, or our innovative Frog-it lure. We also make the tried and true traditional ice fishing tackle, with our Neon colors, like Rockers,  Jr's Side Kick, Tear Drops, Willows, Gold Flipper, and Glow Jigs.
We invite you to purchase "Hand Made" American quality tackle made by Snyder Tackle.