Hunting for big Spring Crappie
By Brian Koshenina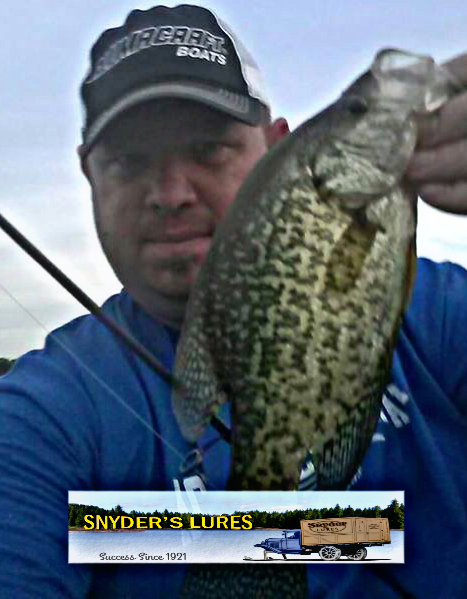 If you're like me you can't wait for opener. This is just simply "the best time of year", But what to do in the mean time? There's open water, the suns out, the lakes are slowly warming and you are all ready to go? Personally, I like catching big Crappie and here's how I do it…..
First of all, not every lake in your area has a healthy population of Crappie let alone big Crappie. I suggest you do your homework first before you head out. I have a lake that is fairly close to me that has been producing larger size Crappie year after year and you will often find me there come spring. If you are not as fortunate as I, the first place I would head is your local bait shop. They hear where Crappie are biting every day and they often over hear stories of big Crappie caught. You can always stop in or give them a call, they're always glad to help. If you want even more information, your state wildlife agency should have information that can be useful. I use the Minnesota DNR "Lake finder". You can get information on just about any lake in your state. From lake maps, fish populations, lake access to gill net numbers, it's on the site.  They have recently come out with a mobile app for your phone that allows you to get the same information from the site, anywhere, as long as you have a good signal. This comes in very handy.
Once you have picked out the lake it's time to be efficient. You need to eliminate the areas of the lake you know won't hold fish this time of year. Crappies seek warm water in the spring to spawn, so look for the section of the lake that gets the most sun. Bays, shallow humps, shallow flats with structure and anywhere you find shallow water next to drop offs. This will eliminate about half of the lake. Watch for temperature changes on your electronics and also pay attention to structure variations in shallow water. A couple of seasons ago I was having a hard time finding a good spot that held Crappie. I was watching my Humminbird and noticed a depression from 4 feet to 6 feet back to 4ft, surrounded by cabage on a big shallow flat. I marked this spot and waited a few minutes, just encase they were spooky. On my first cast I landed a 17" and after several cast had a limit of Crappie in no time. What this taught me was that, any variation on the bottom, any standing structure, or areas between weeds were spots to target in shallow water.
Boat control is critical in the spring. Most Crappie will be schooled up in small areas so you need to be as stealthy as possible. I usually set my trolling motor no further than 2 on the foot control. I literally "Creep" up to my marked spots often circling them as I cast. I recommend that you stay at least twenty feet away and make long cast to your spot. Keeping your distance will allow them to stay in a school rather than have them scatter and become less likely to bite.
I go against the rule of using long, light weight rods when I fish for Crappies. I use a medium 7 foot rod with a fast tip. I know it gets intense when you catch a large Crappie on a light weight rod but in the spring but larger fish bite also. When I am slow trolling, searching for Crappies, I will often catch very large Bass and I do not need to snap a light weight rod fighting a 6 pound Large Mouth. I also go against the grain and use 6 pound mono. I know about the sensitivity factor, light weight rod and line equals more sensitivity and more fish caught but I'm not after the small ones. When I catch large Crappie, I often find that they hit the presentation with authority and not with a light pull. This is when you need to count on your rod and line and there is no room for a chance of losing a potential trophy to a rod snap or a line break.
My lure selection is simple. I use a Snyder's Lures "Crappie Spinner" or a "Froggit" usually works best tipped with either a Berkley Gulp 3" Black shad or a 1.5" Mister Twister. I use the Gulp when they are "Up Biting" and a Mister twister when they are chasing the lure. Throwing a small split shot on your line helps get the bait to them faster and makes it less likely that a Blue Gill will bite it first. The presentation I use is what I call "Aggressive" bobber fishing. It sounds "Old Fashioned" but it works! I cast out to the desired spot where I know the Crappie's are holding. If I do not get a bite within 5-7 seconds I reel in and cast out again. Most of the time you are casting into shallow water(Less than 10 feet) so the action can be fast and furious. Using plastics saves time when you fish this way. There is no time to waste losing bait off your hook. You can catch multiple fish on one plastic which keeps you casting when you're on a hot bite.
Take advantage of the time you have before the fishing opener and use these tips. It can make your spring Crappie fishing more successful and the spring much more enjoyable.