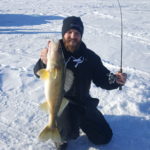 If your like me than you probably have an addiction to spoons. I almost always have a spoon on during the ice season. Spoons bring more to the table than a jig in my opinion.
Spoons come in many shapes, sizes, and colors. Some have smaller spoons attached that flare out the water while jigging them. Some have rattles inside for calling in fish in murky water. Some have a bullet like profile and they shoot straight up and down in the water while others have a slender wavy profile that allows them to flutter as they fall giving the impression of a dyeing bait fish. Some have feathers on them and some have colored beads on them.
The larger profile of a spoon generally attracts the more active fish who are on the feed. Fish that wont just nibble the bait but will come in hot and just smash the spoon. Spoons are made for almost every specie of fish. Everything from Crappies to Lake Trout. You can tip the spoon with everything that you can tip a jig with whether it be a whole minnow, a minnow head, wax worms or even plastics.
While using a spoon you can utilize many different cadences. Sometimes the fish like long, fast jigging with a free fall back down. Sometimes all you have to do is quiver your rod tip enough to make the spoon just bounce in the water. I prefer to give the fish long jigs and a flutter down until I have their attention. Once they move in, I will change that to a quiver while slowly rising up in the column until they commit. Your cadence will depend upon spoon size and the species you are targeting. It will also depend on the mood the fish are in.
When I buy a new spoon I like to fill a pitcher of water up and drop the spoon in and bounce it around in there so I can see exactly how it acts in the water. This will give me a good idea on how to use the spoon in most situations effectively.
A little advice, you can never have enogh spoons!
I hope this helps you in your future fishing endeavors.
Good luck and tight lines!
Kyle Lynn
Snyder's Lures
Team IFM